Superior Double Glazing Margate
Our bi-fold doors are the designer's product of choice at the moment and are a highly sought after home improvement product due to the beautiful aesthetics they provide along with a whole host of benefits and features. Bi-fold doors allow maximum natural light to enter a building providing a sense of spaciousness and brightness that draws people to the room. They are a solid construction which are easy to operate which makes them ideal for both homes and businesses that want the option of opening up a wall to an outdoor space to incorporate the surroundings.
Here at Omega Home, we provide bi-fold doors that are designed to be slimline and less conspicuous than traditional patio of French door designs. They allow maximum visibility without compromising on strength or aesthetics, creating a highly modern and satisfying look and feel. Added to this, they are extremely low maintenance with only an occasional wash-down and splash of oil required periodically.
You can configure your bi-fold doors to operate in the way that is best for the space you have available in your Margate home. Built to fold and stack nearly to one side or both sides of an aperture, they allow freedom of movement between the indoors and outdoors. You can also opt for low threshold options to make sure that accessibility is easy for everyone including wheelchair users and pushchairs. Your bi-fold doors can fit in around your lifestyle and provide a whole host of benefits for all of the family.
Keeping your Home Secure
With the slimline profile of our bi-fold doors, we can maximise the glass area of your doors and increase the visibility to the outdoors providing scenic views. When open, your bi-fold doors can provide much needed ventilation in the warmer months and when closed, the insulation works to keep your home warm and comfortable all year round. Despite the beauty of these doors, they do not fail when it comes to security. They offer an incredibly secure solution with high-security locking systems and advanced technology that makes it incredibly difficult to tamper with them or pull them off their tracks.
Our bi-fold doors are comprised of sophisticated folding and sliding technology allowing many years of hassle free use, time and time again. The robust and versatile nature of these doors makes them an excellent option for any Margate home.
---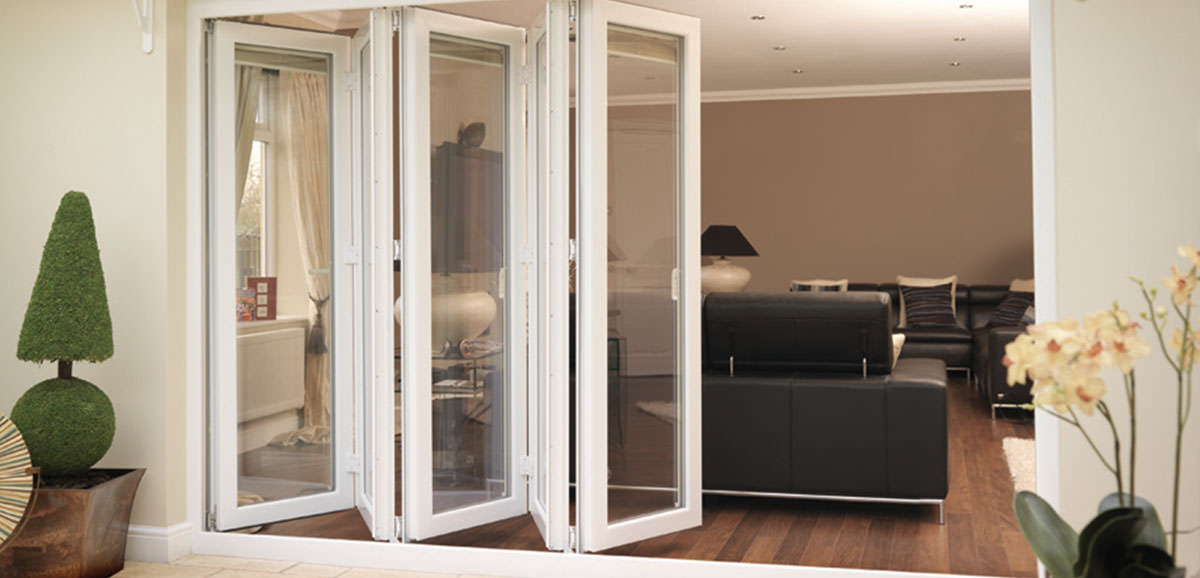 ---
A Compact and Practical Solution
Our bi-fold doors are incredibly compact and are suited to any Margate home where space may be an issue. If you have rooms where there isn't enough space for a traditional door that swings open, then our bi-fold doors will make the perfect alternative. As our bi-fold doors open they concertina back to nearly stack to the sides. This means that space is saved and they won't hinder access in or out of the property.
A lot of the time, bi-fold doors are used in adjoining rooms to give you easy access and segregate areas to make them feel larger and wider. Bi-fold doors are an excellent option for homeowners in Margate that enjoy an open plan feel with large glass bi-fold doors instead of solid ones. They offer a very modern and minimalist design that suits any property type, from traditional to contemporary. The versatile nature of our bi-fold doors make them a popular home improvement selection.
Aesthetically Pleasing
At Omega, we provide bi-fold doors that become an impressive focal point in the home. They will enhance your Margate home simply with the addition of panoramic views and extensive natural sunlight flooding into the building. This makes them an attractive selling point if you're thinking of putting your Margate home on the market. Adding bi-fold doors instantly makes your home look modern and high-end which can entice a potential buyer.
You can also choose from a range of styles and designs to complement your home so you don't have to worry about them looking out of place. Each of our bi-fold door designs can be tailored completely to your needs and requirements. Choose from a range of colours to either seamlessly blend in with your property aesthetic or select a stand out colour to make your bi-fold doors more of a feature.
It's Not All Work and No Play
Bi-fold doors work particularly well for office spaces because they provide flexibility and the option to customise them to the space you require them for. They are often used to separate rooms that can be made into one room simply by opening up the bi-fold doors to incorporate a larger and more inclusive space. This makes them less permanent than a wall, but just as strong and durable.
When you open your bi-fold doors you create a maximum amount of space which can be closed off them you close the doors. This is a huge benefit for any homeowners that work from home. If you don't have a separate office space you can create one that will give you the privacy and quiet you need, by installing our bi-fold doors into your home.
---

---
Love Where You Live
When it comes to home improvement, most often than not it is a much cheaper option to choose than selling up and moving somewhere new. Opting to undergo a home improvement project will not only give you the scope to customise and evolve your home to be more satisfying to you but it will also help you to improve, enhance and modernise elements of your home that aren't currently assisting when it comes to thermal efficiency or security.
Adding bi-fold doors to your home not only transforms how your home looks and feels but they will make it a place that you want to spend more time whether it's for entertaining, playing with the kids, working in your study or simply relaxing. You will find a large amount of enjoyment is to be had by all of the family when you create a home improvement solution that changes your home and utilises the space you have available.
Bi-fold doors will also improve the thermal efficiency of your home, saving you money on heating costs and lowering your carbon footprint. They will provide a secure and impenetrable solution when it comes to keeping your Margate home safe and protected. There is a wealth of benefits simply by investing in bi-fold doors from Omega.
Can Bi-Folds Still Benefit Without a Garden?
It's commonly thought that bi-fold doors are only a solution for properties in Margate that have a garden or outdoor space. This couldn't be further from the truth with bi-fold doors being installed into apartments, modern townhouses and period properties all over the UK with different aesthetics, space and outdoor areas available.
Bi-fold doors work beautifully when installed as the opening to a patio or even a balcony. The possibilities are endless and we can do a simple assessment to see whether your property in Margate can accommodate our bi-fold doors so that you're rest assured that it is a worthwhile investment.
We can talk you through our range of bi-fold door options including configuration options, colours, styles, designs and finishes. You'll be spoiled with choice when it comes to creating a bi-fold door that is unique and bespoke to your home.
---

---
Bi-Fold Door Prices Margate
Our innovative online quoting engine service offers you a way to customise your products from the comfort of your home. Specify your exact details and we will match you with competitive prices. Find out how much our bi-fold doors cost today.
If you prefer to talk to us first, get in touch at our online contact page. A member of our professional team will be on hand to help answer any questions that you may have.