Tiled Roof Conservatories in Margate and Kent
Our beautiful tiled roof conservatories enable you to achieve true flexibility in your conservatory design and to seamlessly combine solid and glazed roofing. Available as both a new conservatory or a conservatory refurbishment, we can tailor for all needs. A tiled roof conservatory gives you all the benefits of extending your living space while improving thermal performance.
Whether you are installing a new conservatory or replacing an old existing conservatory roof a bespoke tiled roof can extend your design choices providing you with the ability to create stylish and thermally efficient rooms without the complicated and time-consuming issues that come as part of a traditional extension.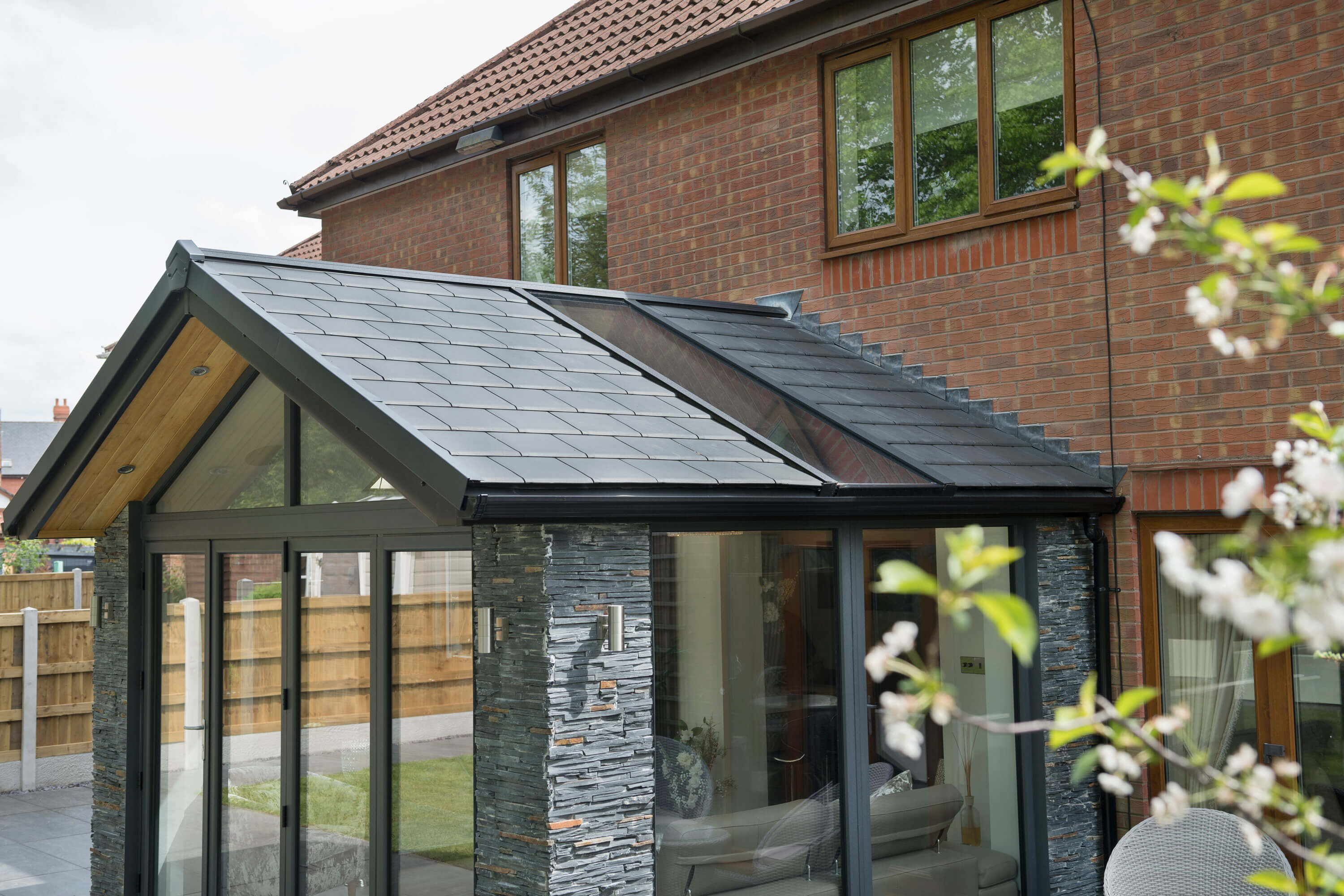 A Choice of Products
We are proud to be able to offer both the LivinROOF system and the Ultra Roof system from Ultraframe, and the WARMroof from Prefix, giving you an increased choice when looking at installing a tiled roof conservatory.
Although similar in function and performance, each system has its own unique benefits. Our designer will work with you to ensure that your tiled roof conservatory is completed with the system that is the very best option for you and your home. The WARMroof is the most configurable and structurally robust on the market, perfect for if you're looking to replace an existing conservatory roof, refurbish an existing conservatory or to add to a new extension.

Exceptional Thermal Efficiency
Our tiled roof conservatories are constructed using insulated composite external panels and slab insulation.
These innovative products provide a robust and extremely thermally efficient roof to enhance your conservatory. Your home will retain heat more successfully, which will, in turn, lower your energy bills as you will use your central heating less often.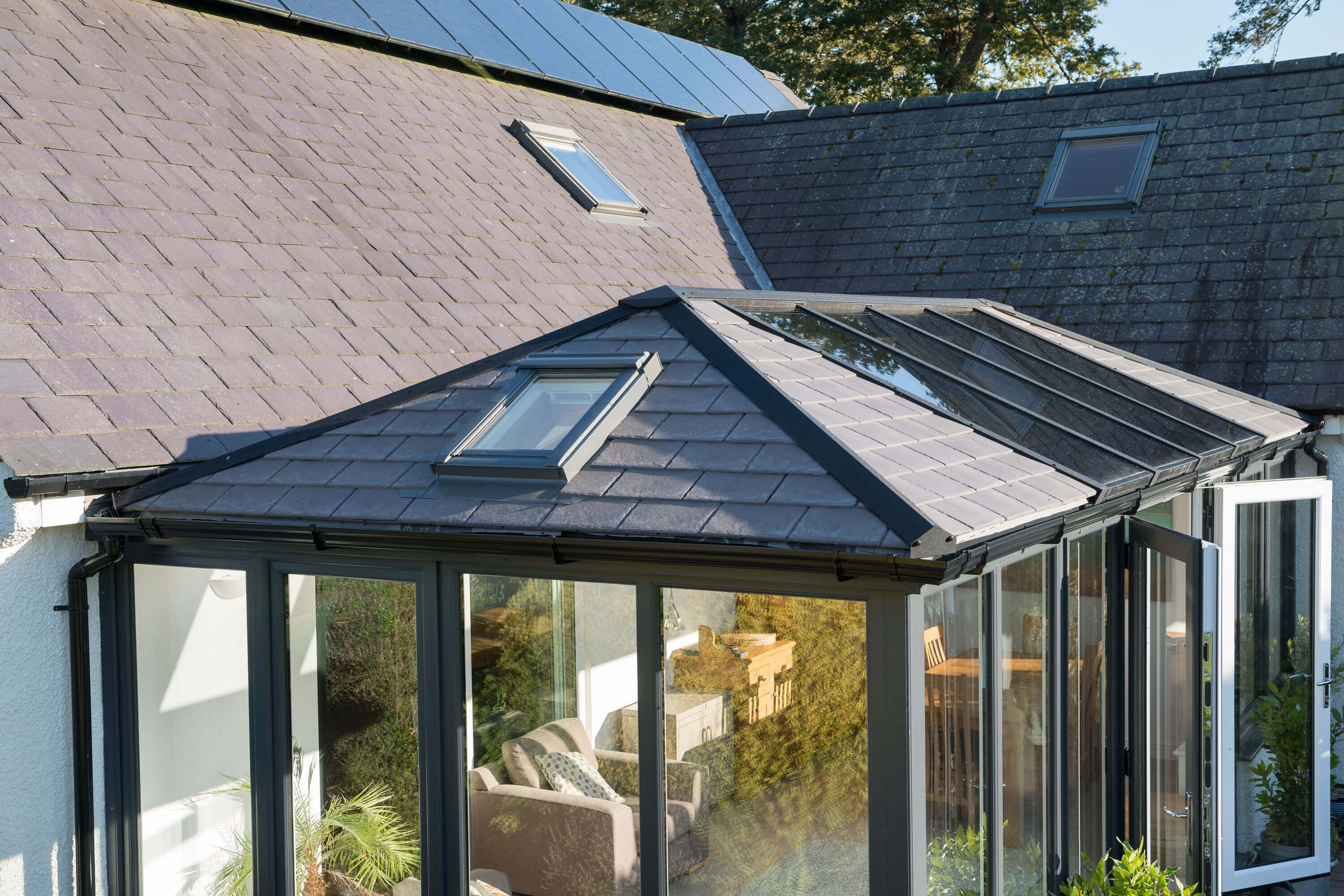 Strong Structure
The structure of the roof utilises Ultraframe's roof system to provide underlying strength and rigidity, ensuring it can withstand the harshest of weather conditions.
Your tiled roof conservatory will still allow you plenty of light, as the solid sections can be combined with energy efficient glazed panels, giving you the best of both worlds.

Ceiling Design
Internally, you are treated to a stunning vaulted ceiling which is enhanced by an internal pelmet around the perimeter where lights can be installed. At the highest point of the ceiling, you have the option to insert or hang lights – an unusual feature for a vaulted ceiling.
If you prefer a cosier atmosphere, you can choose to have a suspended ceiling, which also allows you to continue the ceiling height from an adjoining room.

Unrivalled Versatility
Whichever roof system you choose, all three offer unrivalled versatility.
Any conservatory shape can be accommodated with these tiled roofs, meaning that you can still have whichever style of conservatory you desire, without having to compromise. 
WARMroof Customisation Options
If you choose the WARMroof for your home and worried about losing light into your home, then the WARMroof Hybrid option lets you retain an element of light within the room. The hybrid system boasts a 44mm triple glazed unit that provides a U-value of 0.6. The system is available as a plastered finish internally in addition to timber-lined glass panels.
The plastered lining provides a more simplistic and contemporary finish where the glass panels are position. The plaster detail allows you to personalise the finish by painting up to the glass to match your interiors. An optional standard Velux rooflight is offered in a white painted finish, so you can mix and match fixed and opening rooflights for added ventilation.
The Opus Hybrid upgrade allows the Kent homeowner to add a unique timber-lined internal frame known as Opus cladding. The cladding is specified as an alternative aesthetic to the plasterboard finish. The Hybrid is the most configurable of the type. Glazing panels can be positioned in various different orientations to maximise the natural daylight into your new home extension.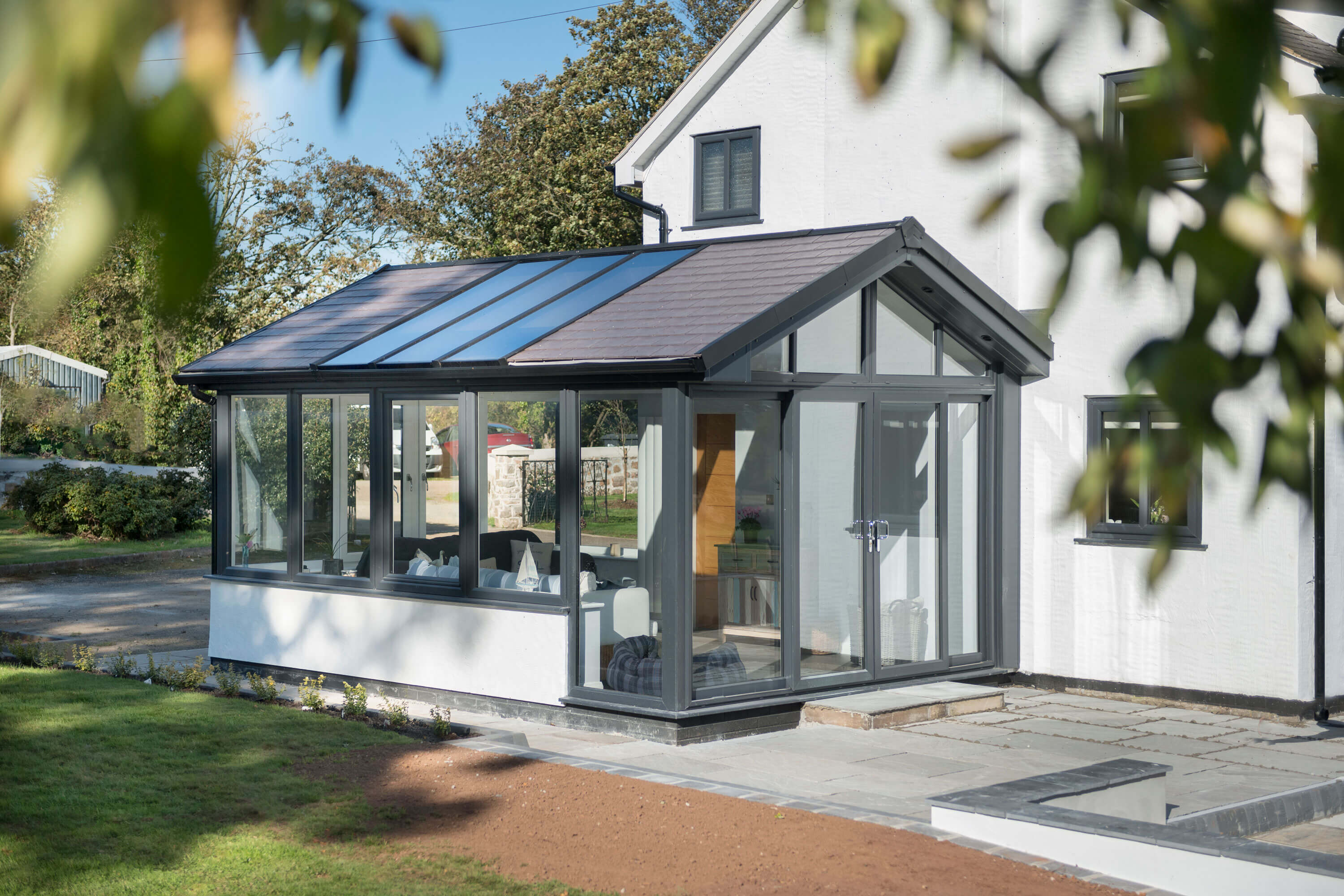 Securing Your Family
When manufacturing our WARMroof system, the roof has undergone rigorous independent analysis both thermally and structurally to obtain type approval certification from LABC/LABSS and jhai. This means you can enjoy a new WARMroof that will not only stand to meet the test of time but will deliver unrivalled technical performance at your Kent home. The WARMroof comes fully guaranteed for 10 years with the tiles carrying either a 25 or 40-year warranty so you can enjoy excellent service.
Tile Options- WARMroof
Our Kent customers can enjoy choosing a tiling solution that will fit their home when they choose the WARMroof. This roofing system has been structurally tested to take concrete, clay and slate tiles to match the existing architecture. We offer our customers two tile options, a lightweight tile or TapcoSlate tile, both of which are BBA certified and with their own warranty, giving you complete peace of mind.
The Lightweight tile is the most popular choice due to its excellent green credentials. The flat, precision manufactured recycled polymer lightweight roof tile is available in 4 colours, Slate Grey, terracotta, Anthracite Black and Dark Brown.
The Tapcoslate is authentically shaped with textured surfaces and riven edges, moulded from authentic slates to make them indistinguishable from natural slate. Our Tapcoslate is available in Stone Black, Pewter Grey, Plum, Brick Red & Chestnut Brown.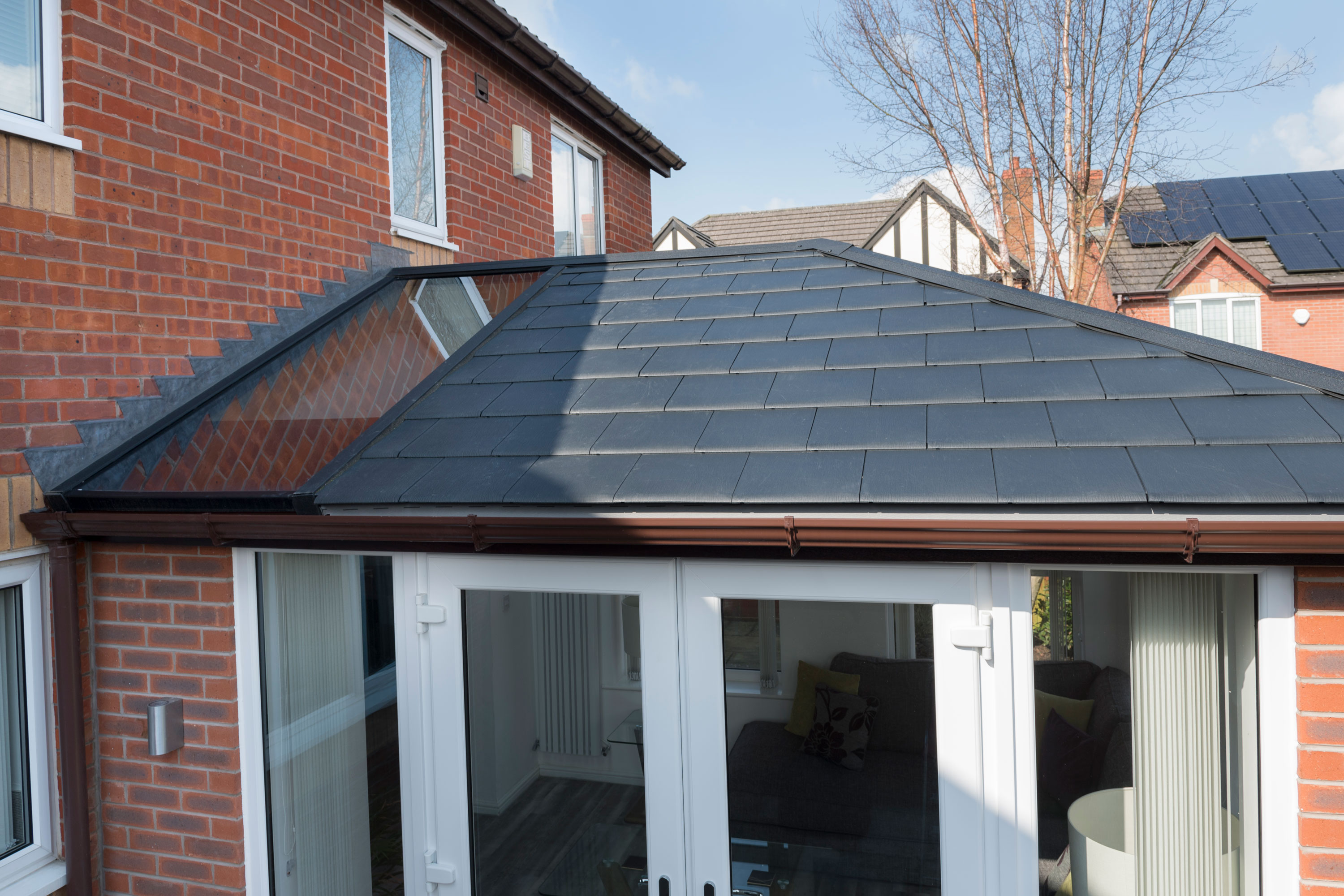 Insurance-Backed Guarantee
When you purchase a new double glazing product for your Kent home, you want to be certain that your product is built to last. That's why at Omega, we give our customers complete peace of mind by offering an insurance-backed guarantee. We use the Home Improvement Protection Guarantee which is valid from 10-years from installation. This will cover you and your deposit during the installation, as well as after the product has been installed.
If in the unlikely event anything goes wrong with your product following the installation, we will endeavour to fix it. If we cease trading before completing the work or afterwards, your guarantee will be safe and the work will be completed by an accredited company. To find out more, head to the Home Improvement Protection website now or call 01359 252 202.
Tiled Roof Conservatory Prices in Margate and Kent
As with all our conservatories, the tiled roof conservatory is designed to meet your exact requirements. Our designer will discuss your ideas and options, then create a tailored design that takes into account all of your preferences.
If you've seen a tiled roof conservatory you would like to get installed into your Kent home, then contact us today. You can call us on 01843 299 662 or fill out our online contact form.
For those who already know what colour tiled roof conservatory they would like, then why not fill out our online quoting engine? Enter a few details to start your quote now.
If you'd rather see our product range face-to-face, then why not visit our showroom. We are based at 121 Canterbury Road, Westbrook, Margate, Kent, CT9 5BD. Book an appointment to visit us now.