Benefits Of Bifold Doors For Kent Homes
Bifold doors are commonly fitted to the back of Kent homes, creating a seamless installation between a home and garden, patio and decking area. They can fold back into the corner of a room, which is ideal for smaller spaces like kitchens and balconies.
Maximise how bright your home can be, as these bifold doors can create a sense of spaciousness. This style of door is easy to use, so open them up wide in summer and better ventilate your property.
In winter, close these doors and still maintain a bright space. They feature slim sightlines and expansive panes of glazing, helping you enjoy panoramic views over your outside space. Despite the wide panels of glass, your property's security and thermal efficiency will not become compromised.
We understand every Kent home is unique, and we want homeowners to embrace the character of your space. Choose the configuration of the doors and add low thresholds to improve accessibility. Our Bifold doors should work around your lifestyle requirements, not the other way around.
Keeping your Home Secure
The safety of your home and loved ones is a priority to our experienced team. These bifold doors are crafted using premium quality materials and fitted with standard multi-point locking systems.
Once fitted into your Kent home, they will protect your loved ones from unwelcome intruders and adverse weather conditions. These installations have been tested to ensure they are a secure investment for homes in your local area.
---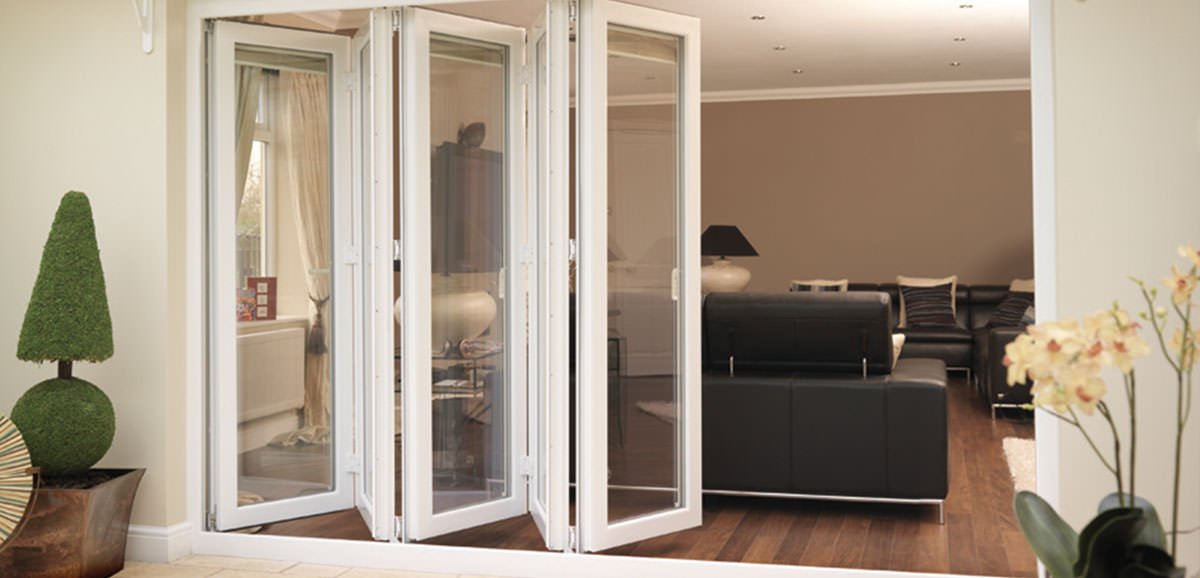 ---
A Compact and Practical Solution
Bifold doors are a practical solution for any home in the Kent area. Unlike traditional doors, which swing open and close, they require no swing space. Bifold doors stack to the side, which means they won't hinder access in and out of the home.
Bifold doors aren't just fitted to the outside of a home; they can also be fitted inside a Kent property. They can segregate areas without compromising on the lighting and add a modern elegance to any property.
Thanks to the modern materials used, these bifolding doors will require minimal upkeep to maintain their fresh loos. Simply wipe them down every now and then, and keep the moving parts lubricated to ensure a long lasting performance.
Add Kerb Appeal
At Omega, we believe that customers shouldn't have to choose between looks and performance. Our bifold doors are an attractive selling point because they flood a room with natural lighting. Add an impressive focal point to your home and add kerb appeal.
These doors are made to measure, ensuring they complement your current architecture and meet your personal preferences. Choose from a broad array of colours, finishes, and accessories. Whether you have a modern apartment or a traditional property, we can adapt our doors to your needs.
You'll be spoiled for choice when it comes to creating a bifold door that is unique to your home. Get in touch today for more information on our customisation options.
---

---
Enhanced Thermal Efficiency
Another benefit of installing bifold doors is that they are incredibly thermally efficient. Our range of bifold doors has been specifically designed and fabricated with energy efficiency in mind. Double glazed as standard, they won't compromise on the comfort of your property.
Because they will help a property better retain heat in winter, you see your reliance on your energy bills lowered. Create a warm home without touching the thermostat, which could help reduce your home's carbon footprint.
---

---
Bifold Door Prices Kent
Use our online quoting engine to get a price tailored to your specifications. We are proud to offer competitive prices without compromising on the quality of the product. Input your details, and our free costing tool will do all the hard work.
If you have a question or would rather speak to us directly, please do not hesitate to get in touch with us today. Our experienced team will be happy to answer your questions and offer impartial advice.