Enhance Your Canterbury Home with Stylish Bifold Doors
Discover the perfect home improvement solution for your Canterbury residence with our exceptional bifold doors. These sought-after designer doors offer a myriad of benefits and features, making them a popular choice among homeowners. Experience the beauty of these doors, allowing an abundance of natural light to flood your space and create a sense of spaciousness and brightness. Designed for both residential and commercial settings, bifold doors provide an effortless transition between indoor and outdoor spaces, allowing you to incorporate and enjoy your surroundings.
At Omega Home, we offer slimline and elegant bifold doors that exude modernity and sophistication. With their maximum visibility, strength, and aesthetic appeal, our doors are designed to seamlessly blend into any Canterbury home. Additionally, they require minimal maintenance, with only occasional cleaning and maintenance needed to keep them in pristine condition.
Customize your bifold doors to suit your available space and lifestyle preferences. They can be configured to fold and stack neatly to one or both sides, providing freedom of movement and easy accessibility. Choose from low threshold options to ensure effortless entry for everyone, including wheelchair users and individuals with pushchairs. Our bifold doors are versatile and offer a wide range of benefits for the entire family.
Ensuring Home Security
Despite their stunning appearance, our bifold doors prioritize security. With their slimline profile, they maximize the glass area, offering panoramic views and an enhanced connection to the outdoors. When closed, these doors provide exceptional insulation, ensuring a warm and comfortable home throughout the year. Equipped with high-security locking systems and advanced technology, our bifold doors offer robust protection against intruders, giving you peace of mind.
Built with durable folding and sliding technology, our bifold doors guarantee hassle-free use for many years. Their versatility and sturdiness make them an excellent choice for any Canterbury home.
---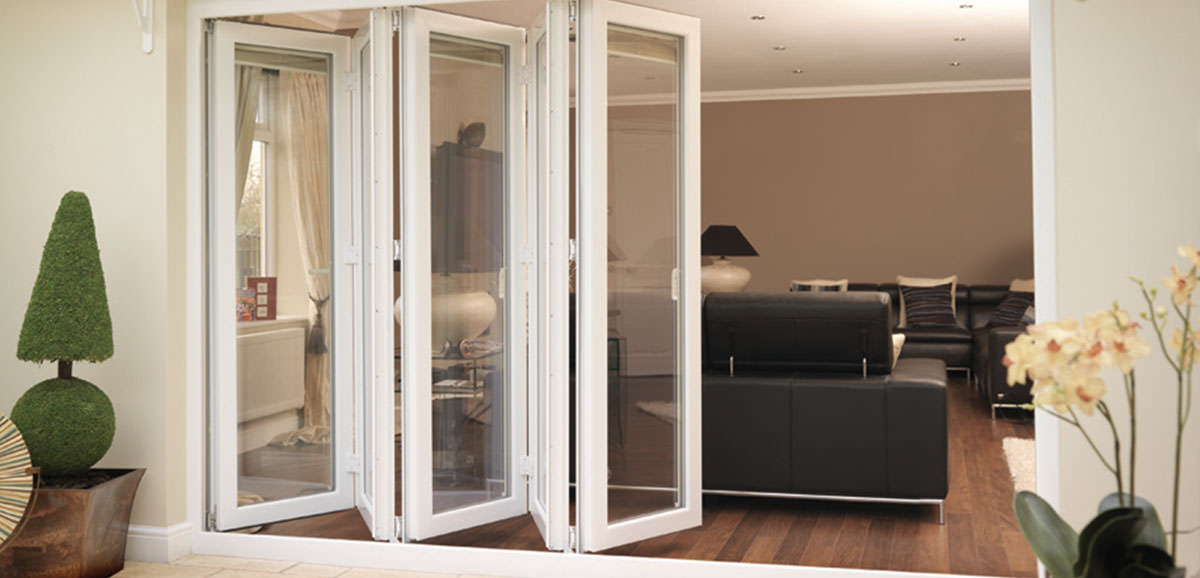 ---
Compact and Practical Design
If space is a concern in your Canterbury home, our bifold doors provide an ideal solution. Their compact design is perfect for rooms where traditional swinging doors may not be feasible. As the doors open, they concertina back, saving space and ensuring easy access to and from the property. Bifold doors are often used to create open-plan areas, allowing seamless movement and enhancing the sense of spaciousness. Their sleek and minimalist design complements any property style, from traditional to contemporary, making them a versatile and popular choice for home improvement projects.
Aesthetically Pleasing and Valuable Addition
At Omega, we understand the importance of creating an impressive focal point in your Canterbury home. Our bifold doors offer panoramic views and allow natural sunlight to fill your space, instantly elevating its aesthetic appeal. Installing bifold doors can enhance the value of your property, making it more attractive to potential buyers. With various styles, designs, and colours to choose from, our doors can be tailored to seamlessly blend in or make a statement in your home.
Perfect for Work and Play
Bifold doors are not limited to residential spaces; they also work exceptionally well in office environments. With their flexibility and customizable options, they can be used to separate or merge rooms, creating versatile spaces that adapt to your needs. Working from home becomes more convenient as you can easily create a private office space with the flexibility to open up the area when needed.
---

---
Love Where You Live
Instead of moving to a new location, home improvement projects offer a cost-effective way to enhance your Canterbury home. By adding bifold doors, you not only transform the look and feel of your space but also create an inviting and enjoyable environment for various activities. Bifold doors improve thermal efficiency, reduce heating costs, and contribute to a lower carbon footprint. Furthermore, they provide enhanced security, ensuring your Canterbury home remains safe and protected. Investing in bifold doors from Omega offers a wealth of benefits.
Bifolds for Every Home
Contrary to common belief, bifold doors are suitable for various property types in Canterbury, including apartments, modern townhouses, and period homes. Whether you have a garden or not, our bifold doors can be installed as the opening to a patio or balcony, expanding your living space and bringing the outdoors inside. We offer a range of options, including configurations, colors, styles, designs, and finishes, allowing you to create a unique and bespoke bifold door that complements your home.
---

---
Bifold Doors Prices Canterbury
Take advantage of our innovative online quoting engine to customize your bifold doors from the comfort of your home. Specify your exact requirements, and we'll provide competitive prices tailored to your needs. Alternatively, if you prefer to speak with us directly, please reach out through our online contact page. Our professional team is ready to assist you and answer any questions you may have.