How to Care for Your New Doors
15th March 2023

Door Care and Maintenance
Your new doors will service you well for many years. They have technical advancements which will improve both your home and comfort.
As you would expect, your doors come with a comprehensive product and service guarantee.  There are steps that you can take to keep them looking their best for years to come. It is also important that you follow the guidance laid out below to ensure that the guarantees are maintained.
Below we have detailed:
How to apply effective care and maintenance
How to achieve optimum performance and longevity from our products
Your Door Warranty
1 year guarantee for the mechanical operation of the hardware against defective materials and workmanship.
5 year guarantee for defective sealed units as a result of seal failure.
10 year comprehensive product guarantee covering the PVC profile and panels against cracking, flaking and discolouration.
25 year maximum guarantee on the paint finish on aluminium frames, except in hazardous environments e.g. coastal locations.
Specialist items such as sprayed frames and painted panels carry specific guarantees. For more information please refer to your contract or ask us for more details.
Stay Safe and Secure
Our uPVC door range is internally beaded as standard. This means that we  install and bead any glass or panels from the inside for additional security.
Operating Your Doors
Always engage multi locking points on uPVC and composite doors when closing your door. You can do this by closing the door, grasping the handle and then pulling it upwards. You will feel the shoot bolts engage and the door will pull itself tighter, compressing on the seals. This increases the security, makes the door draught proof and prevents it from bowing due to changes in temperature. Never leave a key on the inside of the cylinder if going out, you may not be able to regain entry.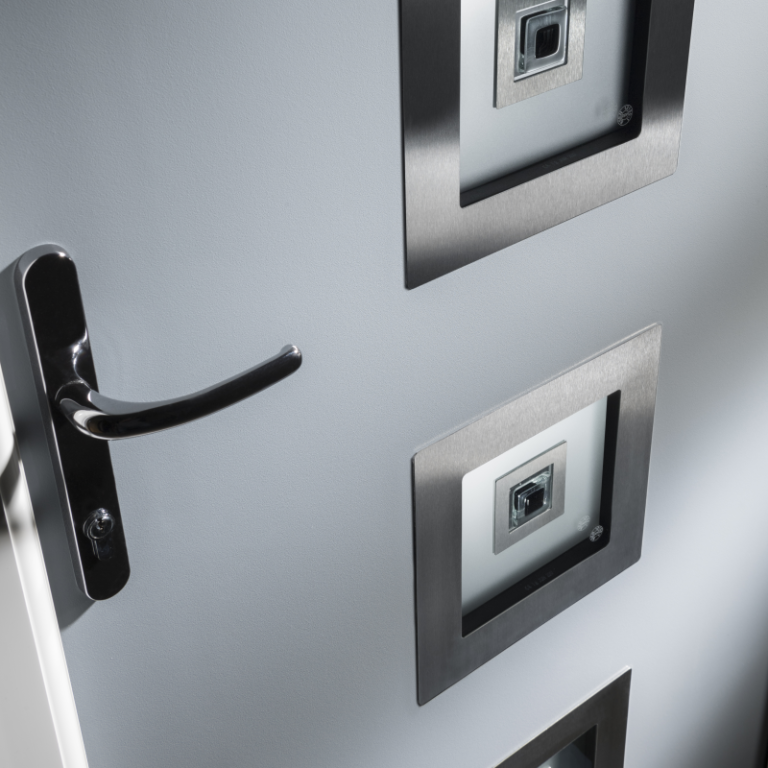 How to Care for Your Doors
We've put together the below checklist to provide you with a quick reference guide for what you should do and should not do to care for your home improvements and keep them working optimally.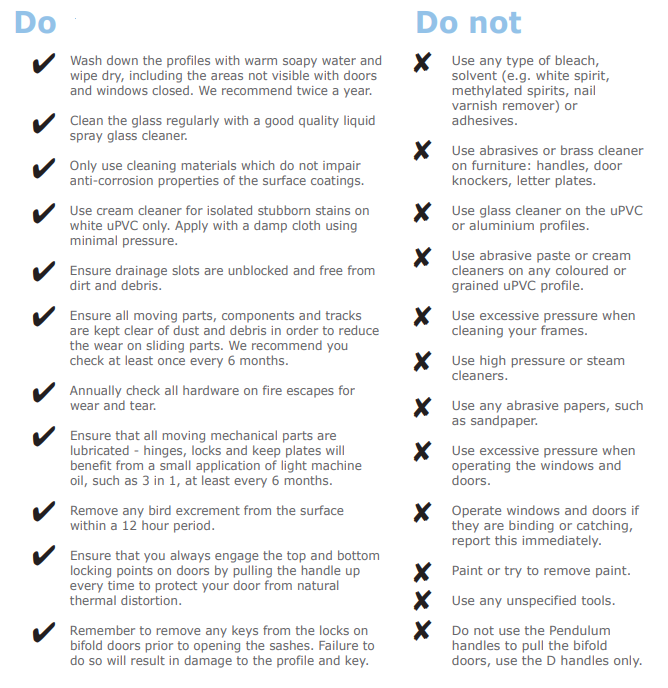 Care and Maintenance
With a minimal amount of care and maintenance your doors will stay looking good and performing superbly for many years to come. Our products are easy to use and simple to care for and maintain.
Lubrication of Locks and Moving Parts
All moving mechanical parts require lubrication. Your windows and doors are no different. The hinges, locks and keep plates of your doors will benefit from a small application of light oil. We recommend lubrication of the hinges and lock mechanism once every six months. Also check that the channel at the bottom of the door is free from debris, you can use a vacuum cleaner or a soft brush to clean it if required. This area is designed to hold water and let it drain away through the drainage holes in the channel, but you should ensure that these holes are not blocked with debris.
Leaded Glass Units
We use natural lead for our stained and lead patterned units. It will remain shiny on the inside of the units, but any lead exposed to the air will oxidise. Oxidation consists of a film forming on the surface of the lead which consists of a layer of insoluble lead salts. These may vary in colour and on occasion a white deposit may form. This is not harmful and does not affect the function of the windows. It can be removed for aesthetic reasons if you wish. Use a mild detergent and pan cleaner, although you should take great care to avoid scratching the glass.
Cleaning Your Doors and Glass
White uPVC Doors
Under normal circumstances windows can be washed with diluted washing up liquid and warm water. Occasionally, where more stubborn stains build up, it may be necessary to use a non-abrasive liquid cleaner designed for uPVC. Apply the cleaner using a dry cloth, use sparingly in small circular motions, and then buff back to a shine.
Woodgrain, Colour Painted uPVC and Aluminium Windows
Use only diluted washing up liquid and warm water. Do not use any cleaning fluid on windows made from woodgrain, colour paint or aluminium profile.
Insulated Glass Units
You can clean the glass with any proprietary brand of glass cleaner, or warm water. The only exception to this is self or easy cleaning glass, which should only be cleaned with warm, soapy water.
We recommend that you clean both the inside and outside of the windows at least once every 6 months. Aluminium in coastal locations should be cleaned every 3 months. Do not use metal or abrasive cleaners, ammonia based cleaning fluids, or high pressure or steam cleaners on the frames or hardware or you will invalidate your guarantee.
You have the benefit of our ten year warranty on your windows and doors, and we are happy to attend to any problem you may encounter. Please do not personally attempt repairs to your windows and doors other than the general care explained above, as you may inadvertently invalidate your warranty. We have experienced fitters and service engineers that will be happy to assist you with any repair issues you may experience.