Housing Development, Tankerton
5th March 2019

Our team of experienced installers got the chance to provide the perfect secure home for a family after helping at a new build housing development in Tankerton. The Nursery Mews housing development has benefited from our professional expertise to  create a safe, secure and energy efficient home.
The project was valued at £25,000 and completed in March 2018, with Sprinks Construction working as the main contractor and DCM Architectural Consultants working on the architecture. In the development we installed our casement windows, a composite front door and a set of aluminium bi-fold doors.
uPVC Casement Windows
Our range of uPVC Casement Windows were one of the products we installed at the Tankerton development. They are manufactured using the Deceuninck 2800 series profile which offers exceptional security and efficiency that can be tailored to meet the needs of the client. The client asked for the installation of our smooth anthracite RAL 7016 grey casement windows, with more than 250 different colours available.
The windows are multi-chambered, allowing for superior energy efficiency, so the future homeowners will benefit from the heat staying in the property and loud noises staying out. The double glazing in the windows will add to the heat staying inside, whilst also meaning cold draughts shouldn't enter the property. This will mean that the family will not have to heat the property as often, saving them money on energy bills. This home will continue to perform at peak level for 10 years thanks to our guarantee.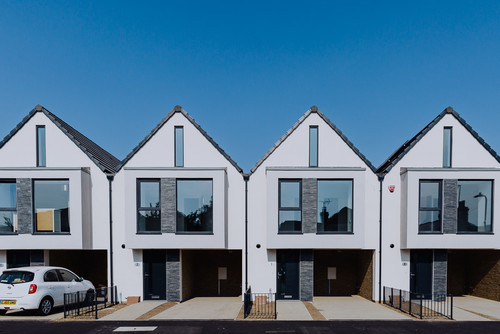 Composite Doors
The new homes will benefit from only the highest level of security thanks to our installation of our DOORCO manufactured composite door. The client has chosen a navy-blue colour door to fit the aesthetics of the property, as well as a glass double glazing panel to allow the homeowner to see who is at their door. With a timber-look, the door has a warm foam core created using state of the art materials, so the family will have the aesthetic look of timber but the benefits of a modern product.
The family will be able to sleep in this property safe in the knowledge that no uninvited visitors will be with them thanks to the strength and durability this door offers. There is nothing in the current market that can match a composite door for strength and these impressive doors come with a strong and sturdy frame with the latest multi-point locking systems installed. The doors are 15-20% more thermally efficient than solid timber doors to the family won't have to worry about heat escaping.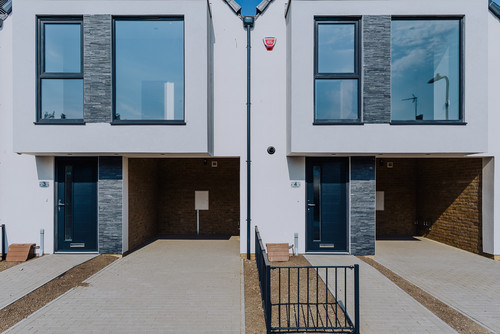 Aluminium Bi-Fold Doors
To complement the grey casement windows each property was installed with the smart bi-fold doors which will link the property to its garden. The aluminium frame gives a sturdy profile that will never rot, warp or become unhinged, making it ideal for everyday use. Our range is suited to fit all homes, whatever the budget, style or space. There are more than 250 colours to choose from so you will find something for you.
One excellent design feature of an aluminium bi-fold door is that they are thermally broken, so heat will not be lost through the frame. This will keep your home warmer for longer and won't allow cold draughts to enter the property, saving you money on heating your house. They are also tested to protect you from all weathers, no matter how bad the wind and rain is, your home will be comfortable and dry.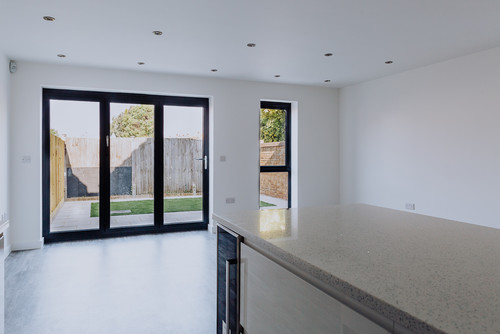 A Name You Can Trust for Your Project
If you are looking to complete an installation and want to experience a high-quality service with premium-quality products, then Omega is the team for you. Call our specialists today on 01843 299 662 to find out what we offer, or look through our product range to find the best fit for you. You'll find all the products used in this project on our website.
If you've been inspired to update your home with the latest in double glazing and uPVC technology, then reach out to our team. You can give us your details by filling out our online contact form and one of our team will get back to you. If you'd rather speak to one of our specialists in person you can book an appointment or visit our showroom at 121 Canterbury Road, Westbrook, Margate, Kent.
We also provide a bespoke online quoting engine for those who already know what product they want. This will provide you with an estimate of how much our services will cost with no obligation to book.