What Is An Orangery?
16th February 2022

An orangery is a home extension with a glass roof typically covering less than 75% of the overall roof area, and glass walls covering less than 50% of the total wall area.
Traditionally, orangeries were grand, impressive buildings used to grow orange trees in large period homes. The solid nature of the pillars offers shelter while the large expanses of glass ensure the sun's warmth fills the space.
Modern-day orangeries are glazed structures similar to conservatories. They tend to focus more on a solid roof and incorporate the use of a lantern, flat roof or an internal pelmet around the perimeter of the ceiling and usually have pillars made from brick or super-insulated aluminium columns which add an element of grandeur.
An orangery can be designed to include floor-to-ceiling glass, and brick pillars can be excluded. This means an orangery can look like a conservatory and vice-versa. This means that you, as a customer, will have complete control over the look of your new room and can ensure the finished installation looks as expected.
Homeowners can choose to extend their property with one of our industry-leading orangeries. Our team will work with you every step of the way to ensure that your new home extension seamlessly fits with any existing architecture and complements the design of your Kent property.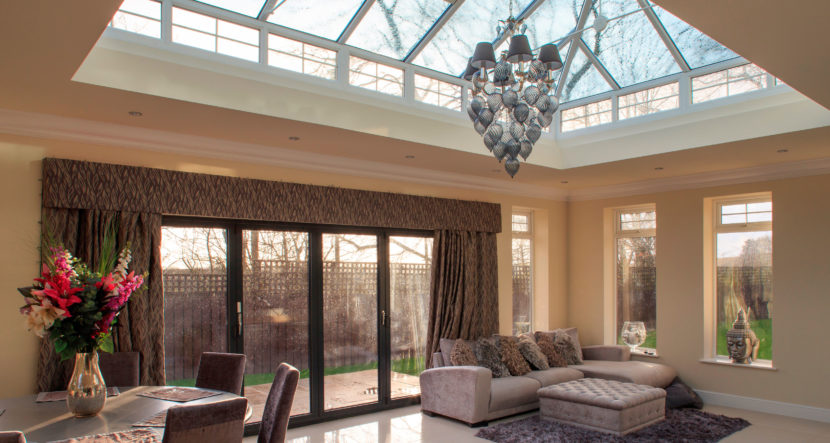 Contemporary Orangery
Our Contemporary Orangery combines super-insulated columns, with a decorative cornice and insulated pelmet for the ultimate orangery look. To add modern styling support wide spans of bi-fold or sliding doors with an integrated, invisible structural goalpost. A touch of contemporary glamour, perfect if you're looking for something stylish that perhaps combines with the colour of your window frames.
Classic Orangery
Homeowners can opt for our Classic Orangery, this particular design has a more traditional look with its brick piers, internal pelmet on the inside and curved cornice it exudes traditional stately-home elegance.
Lantern Orangery
Our Lantern Orangery is perfect for every style of property. Perfectly complementing modern or traditional homes, it features the beautiful Ultrasky roof lantern. Internally it gives a deep perimeter ceiling, allowing for a flexible lighting design.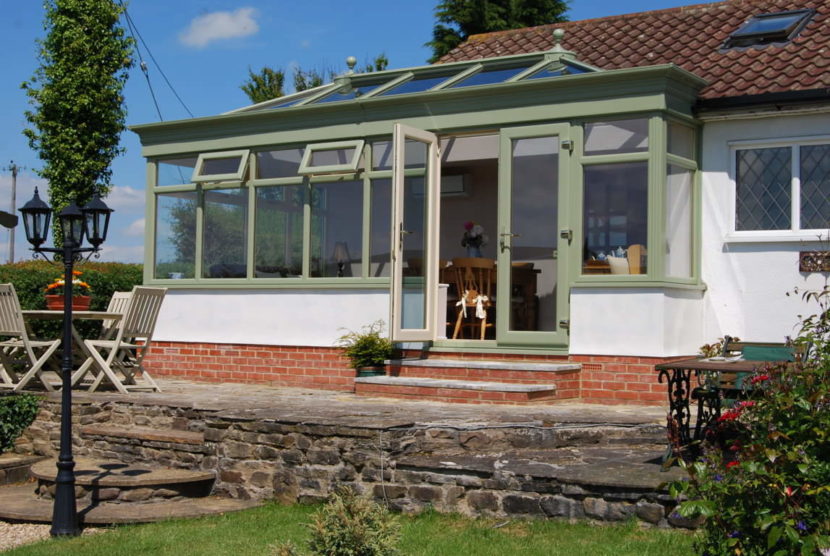 Benefits of Our Orangeries
At Omega, we believe that it's important for our customers to be in the driver's seat when it comes to the final design of their new orangery, this is why our team of experts will work with you every step of the way to create the perfect extension for your home. Our installers should be able to match the brickwork of your home to your orangery, which can help maintain it's period charm. Although conservatories can be tailored to suit older properties, an orangery will blend more effortlessly.
Energy Efficiency
Our Orangeries can be more energy-efficient than a regular extension since they allow much more light to enter, and much like a greenhouse, this will help to heat the room in the winter months. We always recommend having an optional opening roof vent (effectively an opening window at the top of the roof pitch) which will allow you to control the climate of your new orangery for a comfortable temperature all year round.
There are also options such as solar-control glass which blocks much of the UV light and most of the heat from the sun along with it, which can be useful for South-facing buildings, to stop them from overheating.
Excellent Levels of Privacy
A conservatory will typically be wall to ceiling glass which is great for capturing lots of light but doesn't offer much in terms of privacy. Our orangeries are designed to be a seamless extension of your property, with their brick structure providing greater privacy, sound insulation and acoustic properties.
Versatile Solution
Our orangeries give you the most fantastic living space so whether you use it as a kitchen, diner, or bedroom, you are guaranteed a luxury space to use all year round, no matter the weather.
When you buy an orangery, you can expect the very highest standard of luxury living. Our designs are comfortable during the summer months yet will keep you warm and cosy during colder weather. This makes them hugely versatile.

Prices for Omega Orangeries
If you are looking to have one of our orangeries installed in your home then get in contact today. You can call us on 01843 299662 or fill out our online contact form.
Give us a call today and our team of expert installers will endeavour to answer any questions that you have regarding our orangeries.