Pros and Cons of Bifold Doors
5th September 2022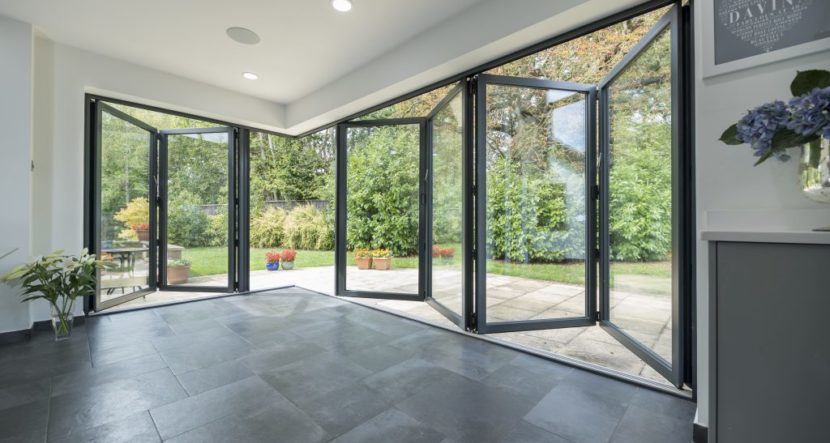 There's a few great options to choose from when it comes to updating your patio doors. From sliding doors to pocket doors, to bifolds or French doors, there's something to suit every home. But how can you choose what's right for your home?
The best decision is an informed decision, so we'd always recommend reading up on any and all types of door you're considering. Here, we'll be breaking down the pros and cons of bifold doors, to help you make that informed decision! But if you still need more help deciding, feel free to get in touch and ask our expert team for their advice.
WHAT ARE BIFOLD DOORS?
Bifold doors are also sometimes called concertina doors, because that's how they move – they're made of a series of door sashes connected by hinges, so they can fold back on themselves. Ours also come with really low threshold options, which makes the aperture easier to navigate, especially for those with little legs (kids and pets!), or mobility difficulties.
Our bifold doors come double glazed as standard, and are available with a range of different widths, numbers of leaves, and of course colour options. We're big on bespoke here at Omega!
PROS OF BIFOLD DOORS
Bifold doors offer an exceptionally wide aperture, so can let in vast amounts of natural light and fresh air. This can help make your home become brighter and airier, giving the illusion of a much bigger space. You can create a seamless transition from the indoors to the outdoors, bringing a little nature into your space with ease.
The other advantage of a wide opening aperture is that it makes it really easy to bring large items into the home. You might not need to often, but when you're bringing in a new sofa, you're sure to appreciate having a space you can get it through!
Bifold doors can also accommodate exceptionally low thresholds. This, combined with a wide aperture, makes them one of the most accessible options for your patio doors. Have the whole family navigation with ease when you choose bifold doors.
Our bifold doors also offer excellent energy efficiency, and impressive security, so they're a great upgrade for your home.
CONS OF BIFOLD DOORS
If you have a smaller space, bifold doors may not be the best choice for you, due to their expanse. Smaller spaces may want to consider French doors or sliding doors to keep things neat and maximise the available space.
The increased accessibility could also sometimes provide a disadvantage to those with small garden pets that you don't want getting indoors, as they're more likely to be able to get over a low threshold to sneak inside!
Overall, we'd say the pros greatly outweigh the cons for bifold doors, but they're not perfect for every space! Get in touch to find out more about whether bifold doors are right for your home, and what other options might be suitable for you.