uPVC window profile options
8th November 2021

uPVC windows profiles come in various shapes, sizes and colour options. The different uPVC systems are suitable for both domestic and light commercial use. Once you have made the decision to purchase new uPVC windows, the cost will be determined by a number of factors:
Number of windows and doors required
Size of windows and doors  required
Colour and profile type, also called the system chosen
Choice of glass, whether double glazing or triple glazing for uPVC windows
Specification of glass, e.g. toughened, laminated, decorative etc.
Hardware options, handle type and colour for example
Cost of installation if not supply only
Other personal preferences
uPVC Profile Options
There are various uPVC windows profiles available for you to choose from. The profile type, also referred to as the system, determines what the finished window looks like. Here, we are concentrating on the profile options that Deceuninck extrude. We use these profiles to manufacture our uPVC windows and doors. The profile types are:
Chamfered (referred to by Deceuninck as Traditional 2500 Series)
Sculptured (referred to by Deceuninck as Heritage 2800 Series)
Flush (2800 referred to by Deceuninck as Heritage Flush Sash)
Why choose a Deceuninck profile?  Deceuninck are a leading extruder of premium PVCu products. They are renowned in the industry for quality and excellence.
We cover in more detail what the main differences are below, but to summarise:
Chamfered (2500) sash windows offer a similar look to sculptured but with a sharper-looking detail
Sculptured (2800) sash windows on any outward opening window stand proud of the frame, overlapping it all around
Flush casement windows have the opening sashes sitting within the frame and flush with the outside and inside face of the window
uPVC Product Options
Deceuninck Chamfered (2500) and Sculptured (2800) series profile can be used for:
Casement Windows
Tilt & Turns
Residential Doors
Patio Doors
Painted Windows
Angled/Arched Frames
If you require the uPVC Casement Flush Sash, this is only available in Deceuninck 2800 series profile.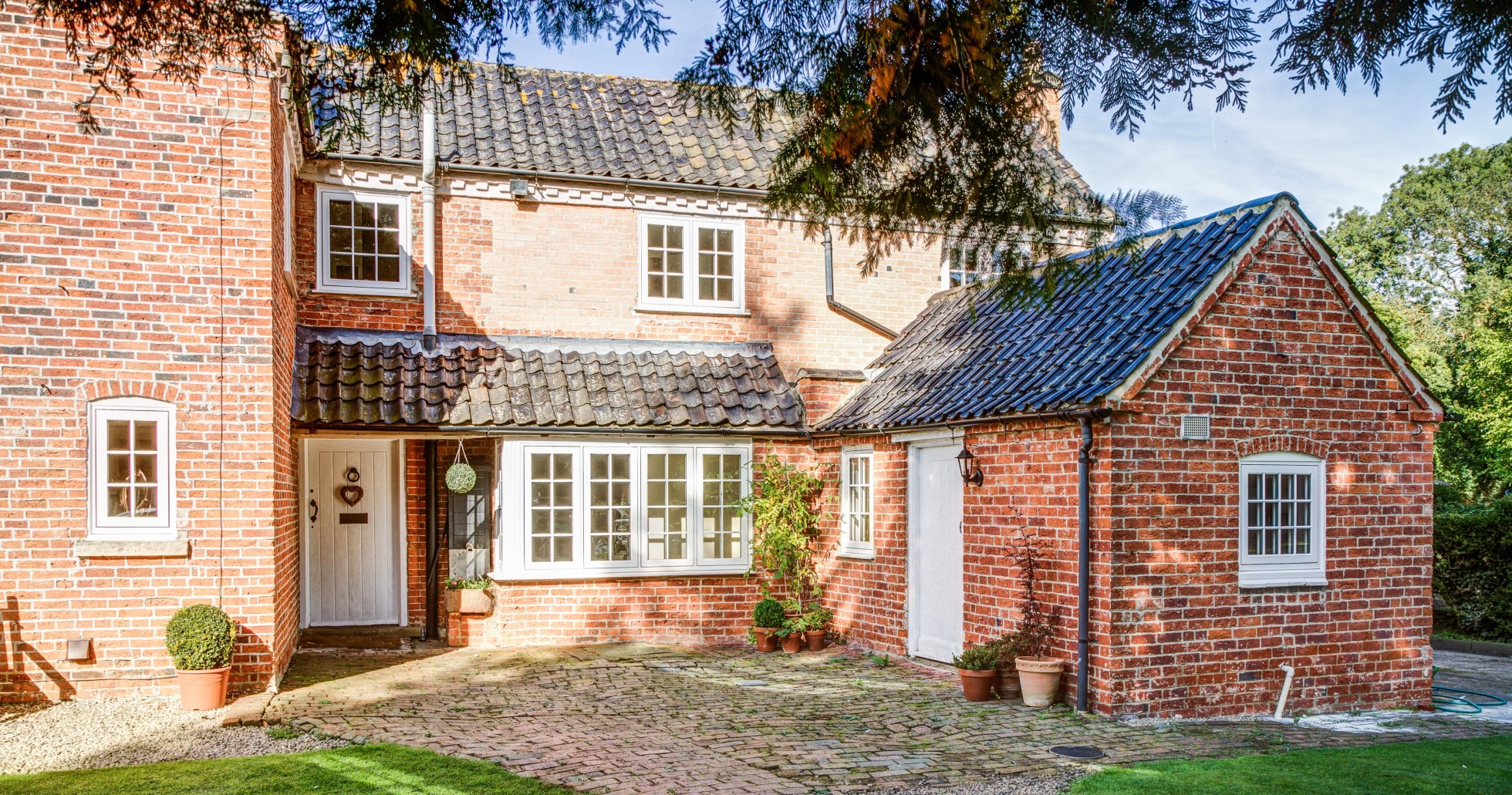 What is the Deceuninck 2500 Series Profile 
The 2500 uPVC windows profile is a chamfered system. It is technically advanced and has high performance. It compliments both traditional and contemporary properties with a smooth and stylish simplicity.  These uPVC Windows comply with all current Building Regulations. They provide excellent thermal insulation and soundproofing and are compatible with all standard security hardware. They are internally beaded. Internal beading prevents forced entry. In addition, they possess multi-point shoot bolt locking as a standard for superior security protection.  Available in a wide range of durable coloured foils and stylish coated finishes.  The 2500 is perhaps more suited to commercial developments including installation of modern windows or new build projects.  Both double and triple glazing are available with the 2500 Series Profile.  For those looking for clean, sharp, modern lines the 2500 Series Profile is the one to choose.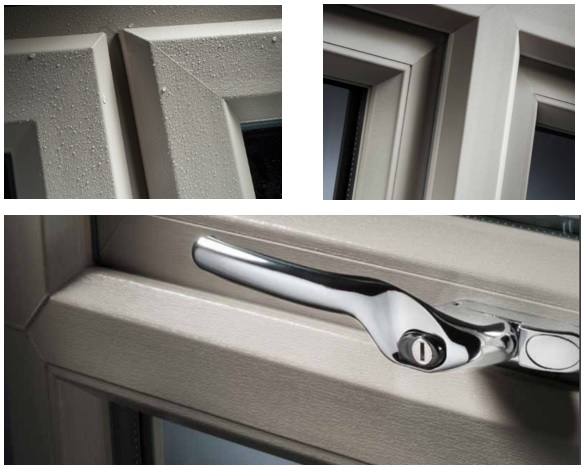 What is the Deceuninck 2800 Series Profile 
2800 uPVC windows profile is sculptured or decorative in shape.  It has a unique, modern shape with smooth contours and is an outstanding addition to any building.  Available in a wide range of foils and colour coated finishes that will compliment your home.  This system has all the features and benefits of the 2500 system as listed above. It compliments both traditional and contemporary properties but is perhaps more suited to residential applications.  For those looking for a more decorative, ornate or traditional look the 2800 Series Profile is the one to choose.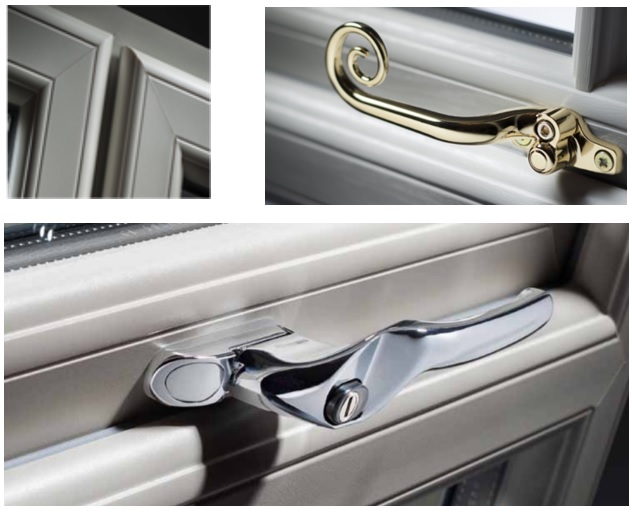 What is the Flush Casement Profile
The flush sash uPVC system is only available in the 2800 series profile. Flush sash uPVC windows replicate the appearance of timber. They have sashes that close into the frame and finish flush with the face of the window.  Typically they have frames that appear the same width, known as "equal sightlines". This look is achieved using dummy sashes. It undoubtedly improves the appearance of a property but is especially sympathetic to period properties.  The elegance and style of traditional timber windows are combined with all the benefits of uPVC Windows.
This range is ideal for those wishing to add or improve the period features of their homes and they also meet the requirements of many conservation areas. Please ensure before ordering that you check with your Local Authority's planning or conservation officer.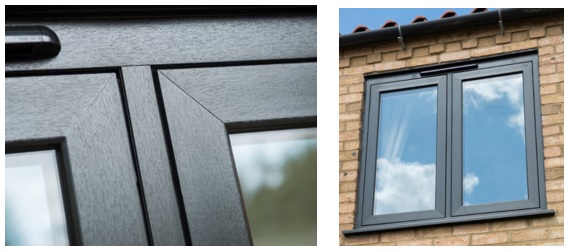 Key benefits of both Chamfered (2500) and Sculptured (2800) Series Profile:
Both uPVC windows profiles provide an attractive look, providing a window profile for both traditional and contemporary properties
A+ rated for energy efficiency
Can be double or triple glazed
Compatible with a range of durable and attractive hardware
High-security internal beading
Both profiles can accommodate reinforced glazing to boost security
Multipoint security locking, key locking handles available which meet industry standards for safety and security
Available in high-quality woodgrain foils, which allow you to fully capture the look of timber
There is an extensive range of colours available, whether you are looking to bring traditional charm to a modern property or period flair to a new build.
Also available in high-quality dual colour option
Available to be painted, allowing you to tailor your choice to perfectly suit you and your home
Reliable security and energy efficiency, with Secured by Design standard available as an optional extra
Variety of styles to suit every home
Personalise with colours, hardware and astragal bars
Virtually maintenance-free
Choice of weld finishes (options shown below)
Choice of Weld Options for Chamfered (2500) and Sculptured (2800)
Standard Range – white and laminated uPVC products usually have grooved welds as standard. Shown in the Rosewood Corner picture below.
StyleLine uPVC Range – using the most advanced manufacturing technology, the StyleLine range enjoys a unique seamless finish to the fusion welds. It is fabricated in a different way using the unique Graf welder. Adopting this technology meant that we are able to join the uPVC profile leaving a smooth, seamless joint to the outer frame and sashes. See the Chartwell Green Corner picture below. Standard flat white frames may have a 1.5mm pencil line finish – see White picture (1.5mm pencil line)
Flush Sash frames have seamless welds (graf) on the outer frames and a 1.5 pencil line finish on all sashes.